The praxis of Love:
A community Conversation on
All about Love: New Visions, by bell hooks
December 1, 2022
6:30 – 8:30 pm CT
In-person and via livestream

Register below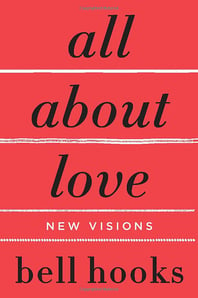 Please join the Leadership Center for Social Justice on December 1, 2022 for a special event highlighting the significance of love as a revolutionary praxis. In honor of the first anniversary of bell hooks' death (Gloria Watkins, 1952–2021), and in celebration of her life and legacy, we invite you to engage in a community discussion focused on one of her classic texts, All About Love: New Visions. Our evening event will feature a panel conversation, followed by small group discussions, as we reflect together on the power of love in the practice of social justice.
Buy All About Love from a bookseller of your choice or borrow it from the Hennepin County Library.
Panel members include Rev. Dr. Jessica Chapman Lape, Dr. David Todd Lawrence, and Rosy Petri. Rev. Dr. Ry Siggelkow will moderate the session.
Snacks and refreshments available starting at 6:30 p.m.
Panel conversation begins at 7:00 p.m.
Please note:
Persons on campus need to be fully vaccinated. While masks are not required, visitors should wear a mask in accordance with health risks and the seminary's COVID policy.
PANELISTS
Rev. Dr. Jessica Chapman Lape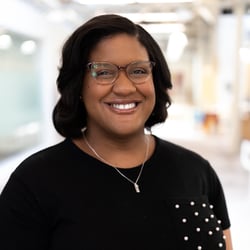 Rev. Dr. Jessica Chapman Lape is a womanist pastoral theologian, a clinically trained chaplain, and a community trained doula. She completed two clinical pastoral education internships through Wake Forest Baptist Health and PIH Health and a two-year clinical pastoral residency through Wake Forest Baptist Health. She also served as a clinical chaplain in the Southern California area for several years working in hospice, palliative care, and perinatal care. She also served as a community trained doula working specifically with African American birthing persons in Southern California.
In 2021, Chapman Lape received her PhD in Practical Theology from Claremont School of Theology where she earned the school's prestigious Presidential Award for Academic Excellence. Her dissertation, "MissTreated: A Clinical Pastoral Theology on the Mistreatment of African American Women in U.S. Healthcare," researches and discusses black women's perception of their mistreatment in U.S. healthcare. With scholarship that encompasses womanist pastoral theology, clinical pastoral care, and healthcare research, Chapman Lape is committed to advancing the field of pastoral theology and clinical pastoral care to include the profession of black indigenous birthwork in order to address and interrupt black women's mistreatment in U.S. healthcare.
Dr. David Todd Lawrence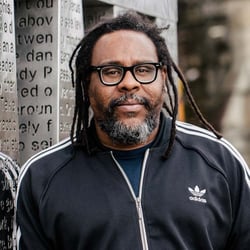 Dr. David Todd Lawrence is Associate Professor and Director of Graduate Programs in the Department of English at the University of St. Thomas. He teaches African American literature and expressive culture, folklore studies, and cultural studies. His writing has appeared in Journal of American Folklore, Southern Folklore, The Griot, Open Rivers, and The New Territory.
His book, When They Blew the Levee: Race, Politics and Community in Pinhook, Mo (2018), co-authored with Elaine Lawless, is an ethnographic project done in collaboration with residents of Pinhook, Missouri, an African American town destroyed during the Mississippi River Flood of 2011. He also co-directs the Urban Art Mapping Project with Heather Shirey and Paul Lorah.
Rosy Petri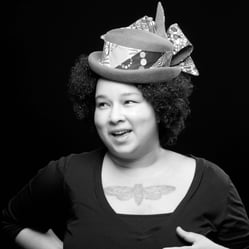 Rosy Petri is a mother, self-taught artist, and storyteller from Milwaukee, Wisconsin. Her multidisciplinary works fuse fabric portraiture, multimedia storytelling, and illustration as an act of witness. In 2021, Petri served as the inaugural Artist in Residence at the bell hooks center at Berea College in Kentucky. In 2020, she was selected as a Mary L Nohl Emerging Artist Fellow and a Mildred L. Harpole Artist of the Year from the City of Milwaukee Arts Board. In 2019, as the 11th Pfister Artist in Residence, Petri created a space to celebrate creative traditions of the African diaspora. Petri was a Milwaukee Artist Resource Network mentee under artist Della Wells.
Petri's work can be viewed in several prestigious collections, including the bell hooks Center at Berea College, the Pfister Hotel, Hunger Task Force, Northwestern Mutual's Giving Gallery, African American Chamber of Commerce of Wisconsin and the Milwaukee County Courthouse. She is currently a member of the Milwaukee Artist Resource Network, Women of Color Quilter's Network, and a board member of the Wisconsin Museum of Quilts and Fiber Arts. Learn more about Petri's art and fine craft online.
MODERATOR
Rev. Dr. Ry Siggelkow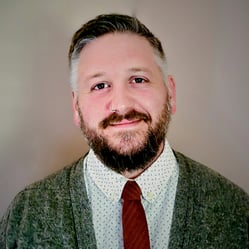 Rev. Dr. Ry O. Siggelkow is the director of the Leadership Center for Social Justice. He earned his PhD in Theology and Ethics from Princeton Theological Seminary and previously served as the direction of Initiatives in Faith and Praxis at the University of St. Thomas when he taught courses at the intersection of race, class, and gender with a focus on migration, the abolition of borders, and theologies of liberation.
An ordained Mennonite minister and former pastor of Faith Mennonite Church in Minneapolis, Siggelkow has been actively involved in grassroots community organizing for several years alongside Spanish-speaking undocumented people. He is co-founder of Pueblos de Lucha y Esperanza (Peoples of Struggle and Hope), a faith-based, women-centered, and immigrant-led organization that seeks to build power in the community so that all people have a place to belong, a place to stay, and a place to grow.
---