BETH LONG-HIGGINS NAMED AS UNITED'S 2023 DISTINGUISHED ALUM
(ST. PAUL, MINN., April 25, 2023)—United Theological Seminary of the Twin Cities is proud to announce that Rev. Beth Long-Higgins ('88) is the seminary's 2023 Distinguished Alum. An experienced pastor, talented consensus builder, and skilled administrator, Long-Higgins is currently the founding executive director of United Church Home's Ruth Frost Parker Center for Abundant Aging. The Center, launched in 2016, serves as a conduit for exchanging ideas, creating partnerships, and promoting innovations in the fields of senior services, higher education, research, and advocacy.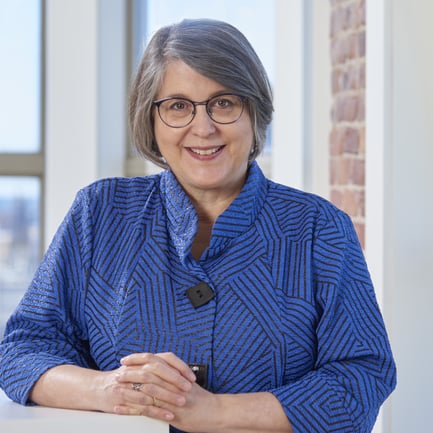 Since its inception, the Center's reach has grown tremendously. Long-Higgins has initiated The Art of Aging Podcast, published numerous articles, developed resources for older adults and those who interact with them, and organized an annual symposium focused on issues related to aging.
In 2021, the Center joined forces with Eden Seminary's NEXT Steps program to offer programs for older adults. For the program, Long-Higgins created a fun, yet educational curriculum that encourages participants to "grow whole," not old. Long-Higgins has also helped develop a four-part video-based curriculum to challenge the perception that old age is invariably a time of loss and decline.
Foundational to her current success, some might posit, is Long-Higgins' 25+ year career as a parish minister. Ordained in the United Church of Christ faith tradition, Long-Higgins was an early pioneer in shared ministry with her spouse, Rev. Dr. David Long-Higgins ('88). As a pastor, notes Rev. Dr. Kenneth Daniel ('81), President and CEO of United Church Homes (and award nominator), Long-Higgins "championed women in ministry, lay women in leadership roles, and innovative ministries in parish life, youth, and family outreach."
Long-Higgins' initial connection with United Church Homes started in 2007 when she joined the board. In 2013, she was called to a new professional role as director of church and community engagement. Her success in that role led to the directorship of the Ruth Frost Parker Center for Abundant Aging.
Over the years, Long-Higgins has mentored other leaders and served on national boards. She is currently an elected member of UCC's Council for Health and Human Service Ministries and serves on the board of trustees for Heidelberg University. Long-Higgins has also taken part in advisory committees with Penn State, SAGE (Advocacy & Services for LGBTQ+ Elders), and other organizations that work to advance equity in care and services for older adults.
Susan H. McFadden, PhD, Professor Emerita of Psychology at the University of Wisconsin-Oshkosh, who met Long-Higgins at the 7th International Conference on Aging and Spirituality in 2017, praises Long-Higgins' "steady, wise, and inspiring work." McFadden, who wrote a letter of support for this award, also credits Long-Higgins' "openness to engaging in important issues of 21st century aging…[including raising] LGBTQ+ issues in conversations about what it means to grow old in our times."
"In the field of aging services," Rev. Dr. Daniel concludes, "Beth has positioned the Parker Center, UCH, and herself as a trusted voice in ethical, faith-informed, and innovative thought leadership and program design.…She is a true exemplar of all the values, legacy, and pedagogy of United Theological Seminary of the Twin Cities."