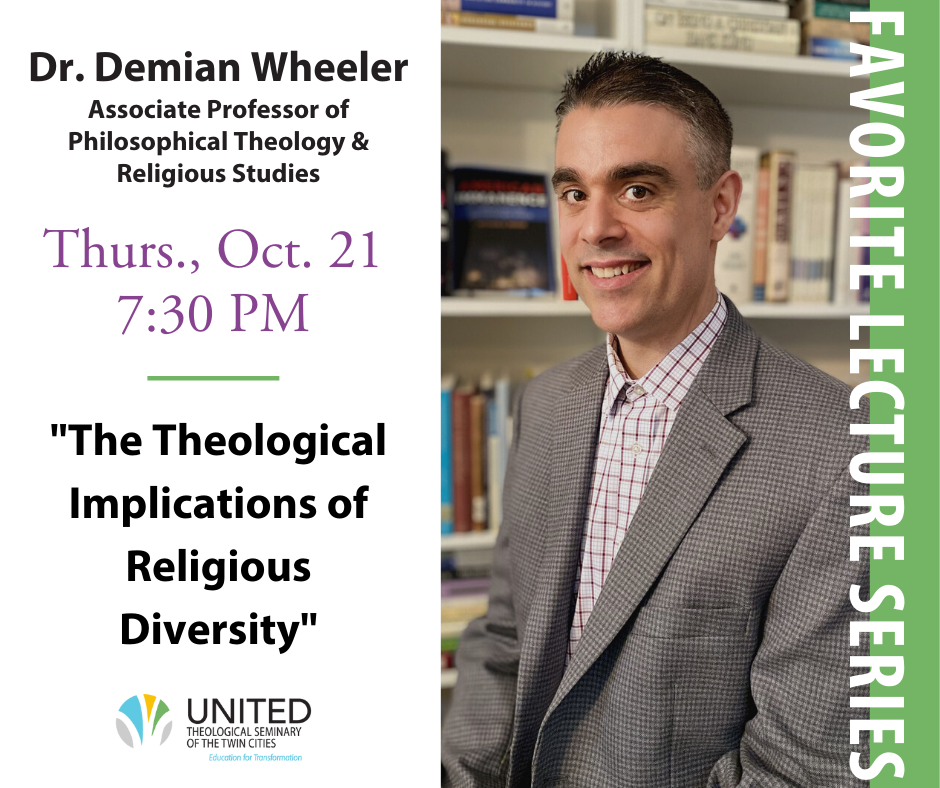 Every teacher has one -- the lecture that they love the best, the one that they can literally feel in their bones when they deliver it in class. In this series we invite you to get to know United's current faculty and get a taste of what happens in the classrooms at United. These favorite lectures will be delivered on Zoom, so enjoy it with a family member, invite a far away friend, or host your very own "watch party." Whatever the format, take this opportunity to learn what it is like to experience the transformative learning experience that happens in the classrooms at United.


"THE THEOLOGICAL IMPLICATIONS OF RELIGIOUS DIVERSITY"

DR. dEMIAN WHEELER




7:30 PM CST, OCT. 21, 2021 via Zoom



Free to attend, please Register below
"In this lecture, we will explore the theology of religions, a subfield within theology that probes the theological implications of religious diversity. What does religious diversity teach us about the nature of humanity, the nature of religion, and the nature of the divine? Why are there so many religions, and how do they relate to one another? How do our encounters with other faith traditions affect the way we interpret the meaning, truth, and mission of our own tradition? Come and learn about how different theologians have grappled with these challenging questions."
Join us for additional lectures in this series:
December 9: Dr. Jennifer Awes Freeman
"The Iconography of Advent: Images of Mary East and West"
Register >
Spring lectures to be announced.