detail of "

Imahot/Mother Trees"

(2019/2020) by Gabriella Boros


ARTIST TALK: Gabriella Boros

Tuesday, October 25, 2022 | 7:30 - 9:00 PM
On Campus & VIa LIVESTREAM
United Theological Seminary of the Twin CitieS


REGISTER BELOW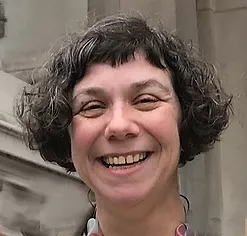 Join us for Gabriella Boros' first formal event at United. Boros will offer an artist talk about her striking woodblock print exhibit "Rage, Roots, & Stones." Dr. Munjed Murad and Dr. Jennifer Awes Freeman will moderate a conversation in response to Gabriella's presentation.
Gabriella Boros has shown her prints, paintings, and multimedia works nationally and internationally. Focusing currently on woodblock prints and handmade books, Gabriella also photographs nature, paints in acrylic on wood panel, and creates drawings, sculptures, and found-object cheese boxes.
Her works have been exhibited in galleries, museums, and other communities, including the Osher Marin JCC Gallery in San Rafael, the Sabes Gallery in Minneapolis, the Wesley Theological Seminary in Washington, DC, the Beth El Synagogue in Highland Park, Illinois, the Porto Print Biennale in Portugal, and the Galleri Allergi in Stockholm, Sweden.
Gabriella has also held numerous residencies at institutions such as the Hortus Aboretum in the Catskills, the Berheim Arboretum and Research Forest in Kentucky, and the Grand Marais Artist Colony in Northern Minnesota. In 2015, she completed her handmade/handprinted book Esh: Fire in Judaism. A year later University of Michigan Libraries purchased the book for their Special Collections.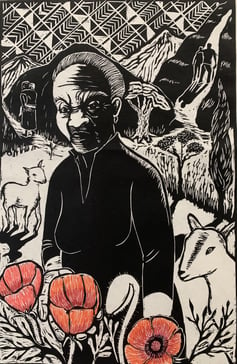 Born in Israel, Gabriella immigrated to the United States as a child. Her artistry and narratives reflect her European parentage, Israeli childhood, and American influences. She has a BFA from the University of Michigan School of Art. She lives and works in Skokie, Illinois.
The artist talk will be held on campus, but also will be livestreamed for those unable to attend in person. Find directions and parking information here. Questions?
Contact MJ: mluna@unitedseminary.edu.
Please note: Persons on campus need to be fully vaccinated. While masks are not required, visitors should wear a mask in accordance with health risks and seminary COVID policy.