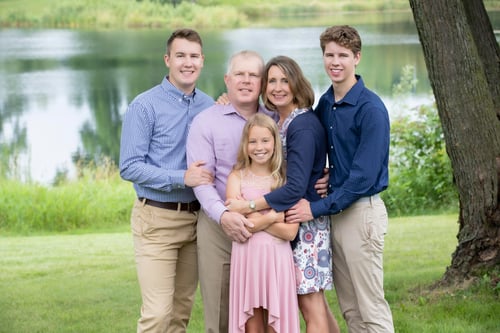 The Johnson-Fry Family

Alum's gift establishes a NEW endowed Chair in World Religions and Intercultural Studies at United
(September 28, 2021) -- United Theological Seminary of the Twin Cities announces the establishment of the Johnson-Fry Endowed Chair in World Religions and Intercultural Studies. This tenure-track, endowed faculty position is made possible by a generous, committed, multi-year gift of $1.75 million from Rev. Andrea Johnson ('17) and David Fry. This investment supports the seminary's progressive values and curriculum that trains ministers, chaplains, social justice and non-profit leaders, and artists for the needs of today and tomorrow in a multifaith, multicultural world.
Speaking to the importance of this endowed gift, Dean Kyle Roberts states, "United educates our students through the lens of a focus on the spiritual, material, and justice-oriented needs of a changing world and through close attention to the evolving cultures in which ministry and spiritual leadership takes place. This generous gift from the Johnson-Fry family provides the natural next step in United's evolution as a seminary preparing students for ministry, spiritual leadership, non-profit leadership, arts, and social justice advocacy work."
Proceeds from the endowment will support this faculty position in perpetuity, allowing United to educate the needs of a growing and diverse student body; to contribute dynamically to a strong and cohesive faculty; and to offer thought leadership regionally and nationally within the field of religious studies from a seminary context.
Rev. Johnson, a Unitarian Universalist minister and member of United's board of trustees, says, "United's mission is to educate compassionate, innovative leaders to serve our rapidly changing world. While we are grounded in our Christian heritage, more and more we are educating leaders in religions other than Christianity. And we need all our religious leaders to be deeply responsive to the realities of religious and spiritual diversity. This chair will be instrumental in supporting United's values and relevance for future leaders. I was transformed by the education I received at United and am passionate about supporting its future."
"This catalytic gift from the Johnson-Fry family demonstrates vision and generativity. They are taking a long view that is both empowering and sustaining," states Interim President Molly T. Marshall. "I give thanks today for these generous givers who are making this much-needed faculty chair possible. Focusing on World Religions and Intercultural Studies, a new professor will strengthen United's profile in a world that beckons respect for the lived religion of others and envisions intercultural competence."
A national search for the position is underway with the intention of the successful candidate beginning in July 2022.

###