Re-Soil/ing the New Jerusalem: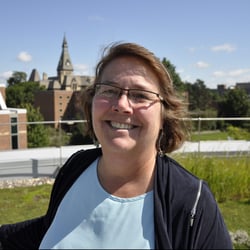 Dream-Reading Revelation (22:2) and Women's Speculative Fiction for Futures that Feed Us

Rev. Dr. Nancy Victorin-Vangerud

Monday, February 28, 7:30-9:00 PM CT
On Campus and via Zoom


Ecofeminist Catherine Keller invites us to "dream-read" the biblical book of Revelation as a "dis/closive" strategy for reimagining planetary futures from "edges" of possibility, counter to religious and secular "endings." This eco-eschatology lecture begins with a visage from the Lake Street Bridge, reflecting on the place of "City, Tree, Water," then flows through apocalyptic images of the New Jerusalem and its Tree of Life, whose "leaves are for the healing of the nations" (22:2). Further inspiration from arboreal researchers, regenerative land-poets, and women's speculative fiction writers illumine relations of kinship between trees, leaves, soil and humans. As spiritual communities seek alternatives to extractive and exploitative economies, eco-eschatology reimagines and dreams how we may engage together for edible, fertile, generous and humble futures.

Please RSVP. Registration is free.
Please note: The seminary's COVID policy requires event attendees to both wear a mask and to be vaccinated.
Questions? Contact Ashley at ahovell@unitedseminary.edu
*If you are registered for or plan to attend Symposium Week, you will be automatically registered for this event.
REGISTER:
Founded in 1992, the Susan Draper White Lectures in Women's Studies series is named after the grandmother of Rev. Cil (Priscilla) Braun ('83), Susan Draper White. Because of gifts from Cil and other generous donors, these endowed lectures are free and open to the public.
----------------------------------------------------------------------
FORMER SUSAN DRAPER WHITE LECTURES



1992 Renita Weems (Bible)
1993 Judith Plaskow (Judaism)
1994 Beverly Harrison (Ethics)
1995 Ada Isasi-Diaz (Theology)
1996 Marjorie Procter-Smith (Liturgy & Worship)
1997 Rita Gross (Buddhism)
1998 Mary Hunt (Ethics)
1999 Mary Elizabeth Mullino Moore (Theology/Christian Ed.)
2000 Jane Dempsey Douglass (Historical Theology)
2001 Marie Fortune (Domestic Violence, Justice, & the Church)
2002 Damayanthi Niles (Theology)
2003 Marjorie Suchocki ((Theology)
2004 Joretta Marshall (Pastoral Theology / Care)
2005 Emilie Townes (Ethics)
2006 Letty Russell (Theology)
2007 Barbara Lundblad (Preaching)
2008 Nancy Eiesland (Sociology of Rel. / Disabilities)
2009 Karen Lebacqz (Arts and Ethics)
2010 Joyce Mercer (Practical Theology – spirituality of adolescent girls)
2011 20th Anniversary of Lectureship – Monday lecture by Mary Bednarowski / Tuesday panel moderated by Christie Neuger – panelists: Alika Galloway (Kwanzaa Community Church – PCUSA) , Sondra Mattox (M.Div. student), Carolyn Pressler (faculty), Nancy Victorin-Vangerud (adjunct faculty)
2012 Beverly Gaventa (NT)
2013 Eunjoo Mary Kim (Homiletics)
2014 Wil Gafney (Hebrew Bible)
2015 Alika Galloway & panel from Northside Women's Space (Church's response to sex trafficking)
2016 Panel: Dr. Fatma Reda, Sheikha Anse Tamara Gray, Nausheena Hussain – Islam, the Feminist Religion
2017 Rabbi Dr. Amy Eilberg (Interfaith)
2018 Mary Farrell Bednarowski with a panel consisting of Sherry Jordon (St. Thomas), Pamela Ayo Yetunde (faculty), and Sara Wilhelm Garbers (25th Anniversary of Re-Imagining)
2020 Yolanda Norton (Beyonce Mass)
ABOUT THE SPEAKER
Rev. Dr. Nancy Victorin-Vangerud is a retired clergy member of the MN Annual Conference of the United Methodist Church, and she is currently serving as an adjunct professor at United Theological Seminary of the Twin Cities. She brings experience in higher education as a professor of Christian theology at Murdoch University in Perth, Western Australia, as well as Hamline University, where she served as Chaplain and Director of the Wesley Center for Spirituality, Service and Social Justice. Nancy has also served in leadership as a youth minister, retreat center director, director of Christian education, lead pastor, and teaching elder. Nancy received an MDiv and PhD in Religion from Vanderbilt University, and an MA in Christian Education from Scarritt College. She is author of The Raging Hearth: Spirit in the Household of God (Chalice, 2000), as well as multiple articles and book chapters on ecotheology, feminist theology, and ecospirituality. She and her family live in south Minneapolis, where she is passionate about urban gardening and food sustainability.