The praxis of Hope:
An evening with Ricardo Levins Morales
February 15, 2023
6:30 – 8:30 pm CT
In-person and via livestream

Register below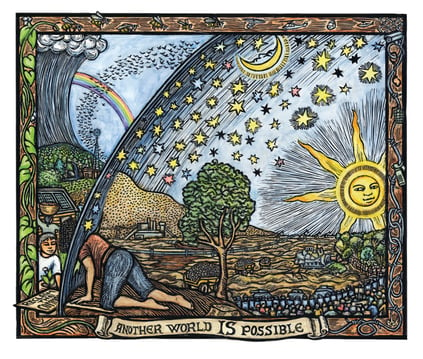 Please join the Leadership Center for Social Justice on February 15, 2023 for a special event highlighting the significance of hope as a revolutionary praxis. Our special guest for the evening is Minneapolis artist Ricardo Levins Morales, whose artwork,
Another World IS Possible,
is at left.
Ricardo Levins Morales is a social justice artist and organizer who uses art as a form of political medicine to support individual and collective healing from the ongoing injuries and realities of oppression.
He was born into the anti-colonial movement in his native Puerto Rico and was drawn into activism in Chicago when his family moved there in 1967.
Ricardo left high school early and worked in various industries. Over time, he began to use art as part of his movement work. This activism has included support for the Black Panthers and Young Lords, and participating or acting in solidarity with farmers, environmental activists, labor advocates, racial justice promoters, anti-war protesters and others who struggle for people's empowerment. He was a founding member of the Northland Poster Collective (1979–2009).
These days, Ricardo leads workshops on creative organizing, social justice strategy, and sustainable activism. As part of that work, he mentors and supports organizers. Worker members of his studio, RLM Art Studio, are represented by the Newspaper and Communications Guild which has served the Twin Cities since 1933.
Ricardo's work is widely used by grassroots movements, organizations, and communities.
Snacks and refreshments available starting at 6:30 p.m.
The conversation with Ricardo Levins Morales begins at 7:00 p.m.
Please note:
Persons on campus need to be fully vaccinated. While masks are not required, visitors should wear a mask in accordance with health risks and the seminary's COVID policy.
---