What do you value?
What do you value?
On its face, it's an easy question. We all have passions, commitments—things we believe. But for some of us, what we value burns deep inside. It drives what we study, the careers we seek out, the way we see the world.
What we value determines how we live.
The Soul of Transformation: Exploring Vocations in Social Justice is a podcast and resource for future leaders who not only see and name the realities of injustice in the world but can start imagining new and better solutions. This is for change agents, people who want to work towards achieving authentic racial justice, mitigating the dire impacts of climate change, facing the challenges of immigrants and refugees, and ensuring equality for people of all gender identities and sexual orientations.
Here we team up with five diverse, effective, and dynamic social change leaders to explore how justice, spirituality, and our life's work are interrelated. Our speakers come from different traditions and experiences while sharing a passion for a better world and engage in conversation with hosts Gary F. Green II and Justin Sabia-Tanis.
The world needs your voice, your action. It needs your passion, your commitment to justice—the belief that another, better world is possible. Let's explore this together.
We believe that the connection between faith and social justice is integral—if not potentially revolutionary. But you don't have to go to church. And you don't have to believe any certain things. Just come with an open mind and a passion for seeking out and creating justice. We ask that you engage with us in the process of imagining a world where justice is the norm and not the dream.


Ready to transform the world and explore your place in it?
Check out our Soul of Social Tranformation Handbook to record your thoughts and learn more.
Episode 1: The Soul of Social Justice with DeWayne Davis
In our first episode, we look at our visions for a different world and what it takes to get there. What does vocation mean? What is our life's work meant to be and how does that relate to the changes we need to see around us?
Episode 2: The Ground We Stand On with Jim Bear Jacobs
This episode will invite participants to see themselves as a part of a long path of justice work, with foundations laid by our ancestors and continuing to this day. We will consider who created the ground we stand on and how we take participatory ownership in the work ahead. If the arc of the moral universe bends towards justice, who has contributed to its bending and how? And what is our responsibility for what is needed in the future?
Episode 3: Spiritual Practices for a Revolution with Kelly Sherman Conroy
How do spiritual practices and tools further the work of social justice? What energizes our social justice work? We will also explore self-care as a revolutionary act, able to sustain justice workers and contribute to the thriving of our communities. Finally, we will examine spiritual practices that inform the practical dimensions of this work, such as preparing to engage in a protest, deescalate conflict, or celebrate a victory.
Episode 4: What's My Part? with Jamil Stamschror-Lott
How do the unique vocational gifts of each of us within the collaborative, collective, and necessarily ongoing nature of social justice work? How might our contributions relate to the wider community that is seeking wholeness? What is our responsibility to one another to create a better world? How do we find meaning and purpose in our part of the work, trusting others to do theirs?
Episode 5: Now What? with Molly Marshall
What are next steps to explore your path? What else do we need to learn? Who do we need to talk to? What do we need to watch, read, listen to …? And we engage our moral imaginations: What does a just world look like? What methods of engagement do not yet exist that need to? What would enable our communities to thrive?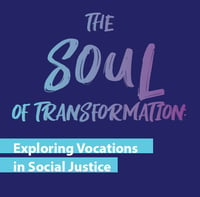 Download the handbook
Explore your own thoughts and path about social justice and vocation in this resource. It can be used alone or as a way to respond to the ideas in the podcast.
Is this for me?
This project is open to anyone but designed for undergraduates engaged with social justice and change—students who are passionate about bringing effective change to areas such as racial justice, the environment, LGBTQ equality and more. In this program, we'll bridge that gap between justice work and faith and community organizations—detailing where their work overlaps and how it can be mutually beneficial. The Soul of Transformation: Exploring Vocations in Social Justice provides a supportive environment in which to explore each person's vocational path.
Rev. Dr. DeWayne L. Davis
Rev. Dr. DeWayne L. Davis, Lead Minister of Plymouth Congregational Church in Minneapolis, is a cleric ordained by the Universal Fellowship of Metropolitan Community Churches, with expertise in social justice analysis, advocacy, and organizing. Rev. Dr. Davis brings a gift for preaching, an appetite for partnerships, a commitment to liberal theology and social justice, as well as experience in public policy and political organizing. He most recently served as Senior Pastor of All God's Children Metropolitan Community Church in Minneapolis. Rev. Dr. Davis previously served as the Domestic Policy Advisor in The Episcopal Church's Office of Government Relations where he represented before the U.S. Congress and the Executive Office of the President the domestic social policies established by the Episcopal Church's General Convention and Executive Council. In the capacity, he organized the Episcopal Church's advocacy for marriage equality in Washington, DC at the U.S. Supreme Court.
Prior to his transition to professional ministry, Rev. Dr. Davis served as legislative aid for U. S. Representatives Peter Visclosky (IN) and Chet Edwards (TX) and as Appropriations Committee aid to Democratic Whip Steny Hoyer (MD), advising and managing such public policy issues as LGBTQ rights, transportation, health care, financial services, housing, judiciary, and law enforcement. Following his service in government, he served as Director of Federal and Industry Relations for Sallie Mae, Inc., where he lobbied and briefed Members of Congress and their staff on regulation of student loan financing and federal government collections as it affected Sallie Mae and managed and distributed campaign contributions through Sallie Mae PAC.
Rev. Dr. Davis has served on many boards, serving currently on the Community Advisory Board for Hennepin Health Care. He previously served on the Board of Directors of OutFront MN and remains active in the effort to ban conversion therapy and address anti-LGBTQ violence. He served on the Advisory Committee of the Kaleo Center at United Theological Seminary of the Twin Cities and the Board of Directors of Clare Housing.
The fifteenth child of Elder William Birkett Davis and Missionary Delcia Davis born and raised in Mississippi, Rev. Dr. Davis holds a B.A. in Economics and Philosophy from Howard University and an M.A. in Government and Politics from the University of Maryland at College Park. He received his Master of Divinity degree with honors from the Wesley Theological Seminary in Washington, D.C. in 2012 and his Doctor of Ministry degree in Biblical Preaching at Luther Seminary in St. Paul, MN in 2020.
Rev. Dr. Davis currently lives in Minneapolis with his husband, Kareem, and their dog, Eubie.
KELLY SHERMAN-CONROY
Kelly Sherman-Conroy, Mato Wašté Winyan (Good Bear Woman), has grounded her life in the Holy Spirit and the deep spiritual practices intertwined between her Lakota identity and Christian beliefs. As a proud member of the Oglala Sioux Tribe, Kelly dedicates her time to social justice, racial reconciliation, trauma and healing, Indigenous leadership, and family ministry. Kelly is in the final writing stage of her Ph.D. Dissertation at Luther Seminary, where she continues her much-anticipated studies on Lakota Spirituality, history, and culture, and how these forms inform Christianity and moves past trauma to healing. Walking with people of all cultures, she actively provides ministry around the exploration of intersections of identity, personal narratives, and faith. Kelly has two decades of teaching and leading in family ministry and keeps busy by actively being involved in the Minnesota Council of Churches (Board of Directors); American Indian Alaska Native Lutheran Association Inc. (Executive Council); MYLE- Multicultural Youth Leadership Event Lead; ELCA Youth Ministry Network (Board of Directors); ELCA Authentic Diversity Committee; Minister of Social Justice & Advocacy at Nativity Lutheran Church, Minneapolis; Convenor of the Twin Cities Interfaith Movement Chaplains.
Jim Bear Jacobs
Jim Bear Jacobs was born in St. Paul, he is a member of the Stockbridge-Munsee Mohican Nation, an American Indian tribe located in central Wisconsin. He has degrees in Pastoral Studies and Christian Theology and has served various churches as youth minister, adult Christian educator, and director of Men's Ministries. Presently he is parish associate at Church of All Nations Presbyterian Church. He is a cultural facilitator in the Twin Cities and works to raise the public's awareness of American Indian causes and injustices. He is the Director of Community Engagement and Racial Justice for the Minnesota Council of Churches. Additionally he is the creator and director of "Healing Minnesota Stories," a program of the Minnesota Council of Churches dedicated to ensuring that the Native American voice is heard in areas where it has long been ignored.
Jamil Stamschror-Lott
Jamil Stamschror-Lott and his wife Sara founded Creative Kuponya, a mental health organization that works at the intersection of Diversity and Inclusion, focusing on out of the box and creative methodologies to bring about healing for individuals, communities and businesses. Jamil teaches Diversity & Inequality coursework in Augsburg University's Clinical Graduate Social Work program. Jamil is deeply committed to his family and his community. Jamil has been featured in Rolling Stone Magazine, The New York Times and USA Today. When he is not diligently working in community, he loves reading books to his 3yr old daughter and walking around Lake Nokomis.